The High Line
Content Strategy, Copywriting, & Design
The High Line is a public greenway and park located on an elevated former railway in New York City with a unique story to tell. My work for the nonprofit involved developing an effective content strategy that would resonate with the High Line's audience. Through captivating photography and video showcasing the lush gardens and vibrant atmosphere, I aimed to highlight the park's distinctive features. By pairing this visual content with friendly and straightforward copywriting, the goal was to engage both existing and potential donors, as well as the broader social media community on platforms like Facebook, Instagram, and Twitter. We wanted to foster a sense of community and connection, both within the physical park and its digital spaces.
Email Announcement
One of the projects I worked on was an email announcement introducing the new director of horticulture. The main focus of this announcement was to highlight the director's impressive background and qualifications in landscape design, while also mentioning their interdisciplinary film and television studies. I specifically included their multifaceted background with the aim of resonating with the target audience, the High Line's diverse NYC-based donors. The email announcement (and social media posts) also showcases beautiful photography sourced from an Instagram user. By incorporating user-generated content, I wanted to create a genuine connection with existing followers on Instagram, making them feel like valued members of the High Line community. Simultaneously, I aimed to inspire and engage others to actively interact with the High Line on social media, thereby expanding the High Line's reach and impact.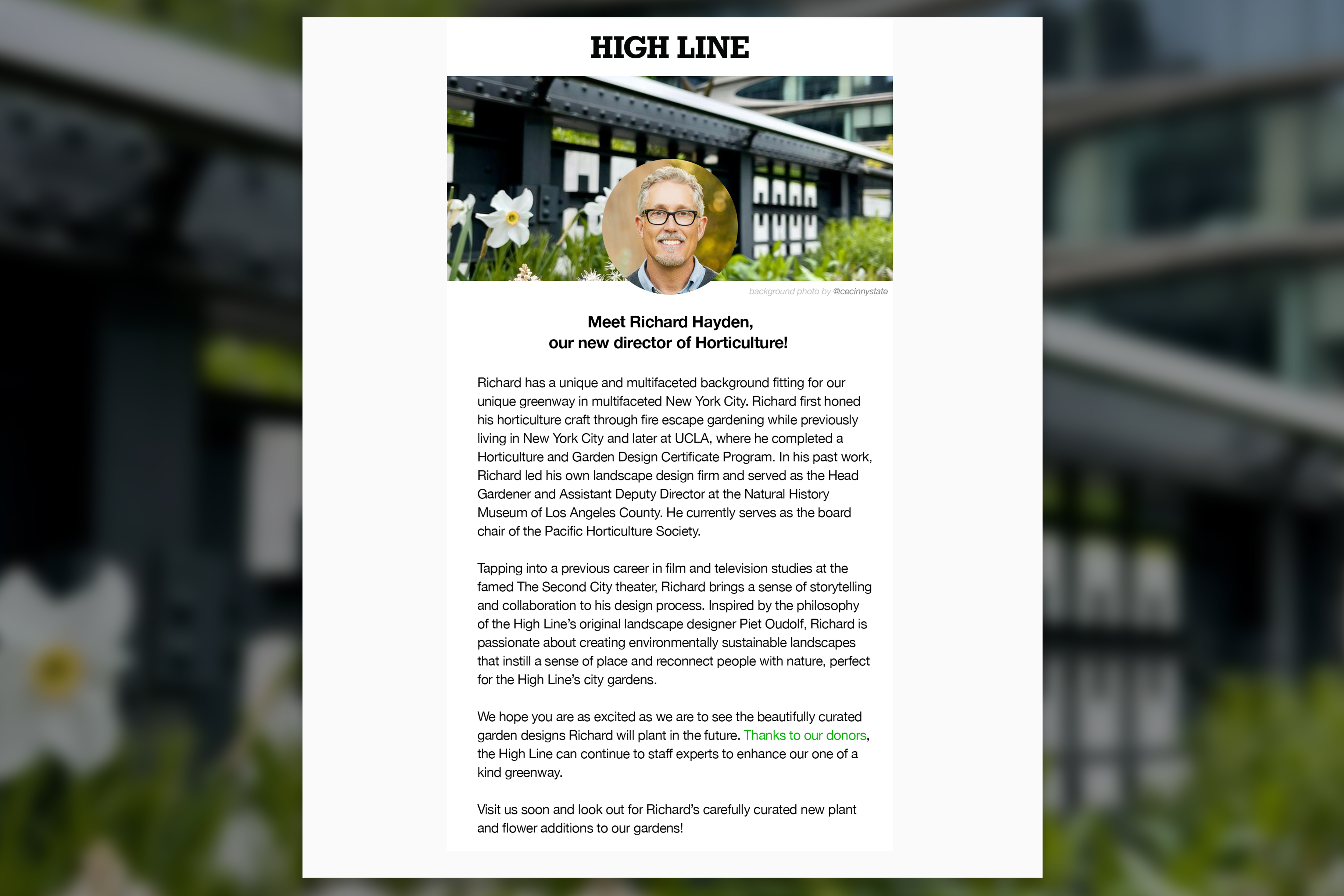 Social Media Posts
To extend the High Line's reach across various social media platforms, I adapted the copy from the email announcement for Facebook (and LinkedIn), Instagram, and Twitter. The copy was tailored to each platform, based on character count limitations and attention span considerations. For example, the Facebook post is also suitable for LinkedIn as both platforms permit a longer character count and generally capture greater attention spans from target audiences. The copy for Instagram and Twitter is progressively more succinct based on shorter platform character counts and the limited attention spans both these platforms garner.
Instagram Reel Concept
To bring the High Line's gardens to life on Instagram, I also brainstormed future video ideas for Instagram Reels. In this concept, I mocked up the decisive first few seconds of a video showcasing an aerial shot of the High Line gardens, gradually zooming in to showcase a solitary flower. During this visual journey, the new director of horticulture would narrate, introducing themselves and describing their landscape design philosophy through a voiceover. The reel would then follow with footage featuring the director working on a laptop, revealing a design or rendering of future garden plans.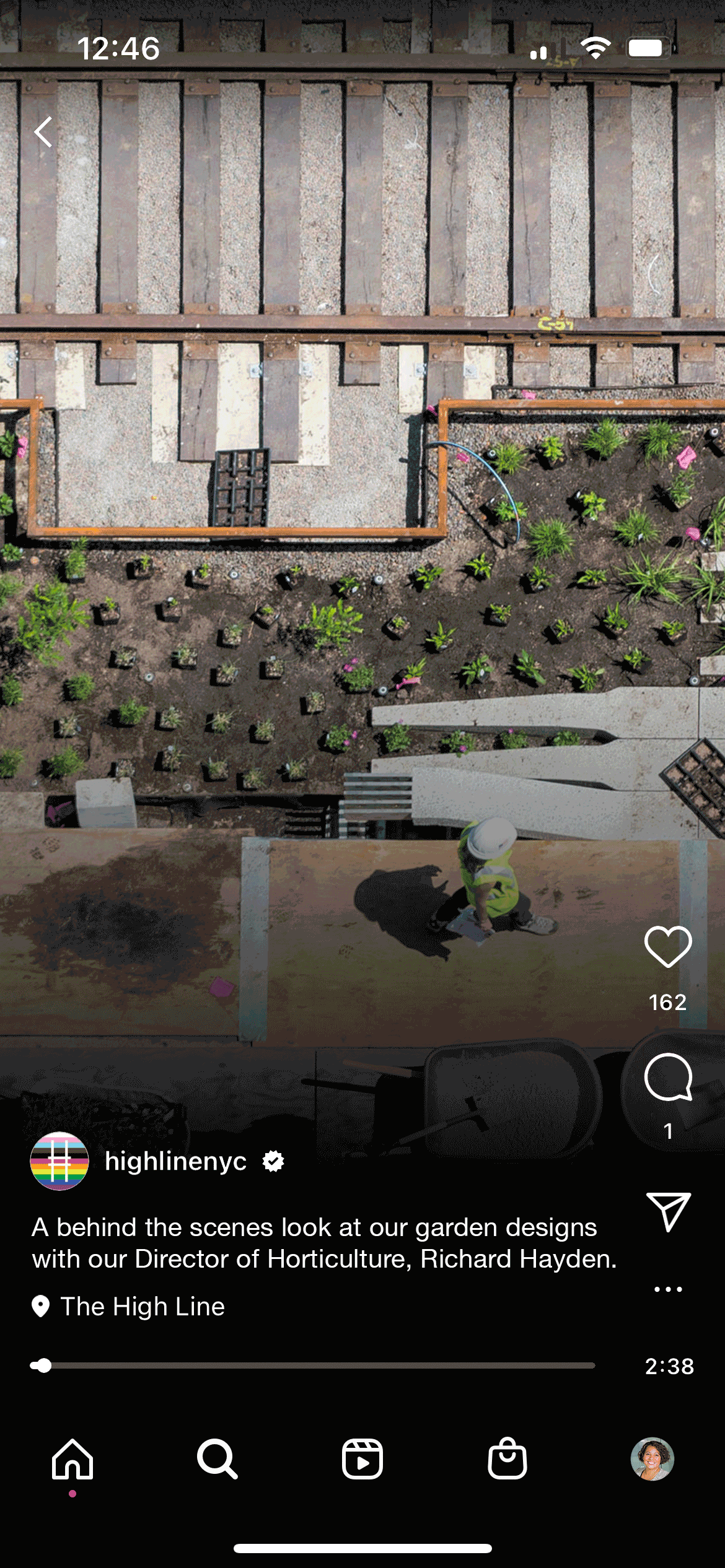 Short-Form Video Content
In order to capture the vibrant spirit of the High Line, I also created additional short-form video content for Instagram and TikTok. Shot in an approachable amateur style, the video showcases the fun activities one can enjoy at the High Line, even on a cold winter day. Through this lighthearted content, I aimed to connect with both city-goers and tourists who appreciate the park's public outdoor space, which offers access to the unique charms and perks of New York City.