The High Line
Content Strategy, Copywriting, Design
Email and social media content strategy, copywriting, and design for the High Line, a nonprofit public greenway and park on an elevated former railway in New York City. The content strategy focuses on emphasizing the unique aspects of the High Line gardens by utilizing beautiful photography and video of the lush park and friendly, straightforward copywriting. The aim is to engage existing and potential donors, as well as a broader social media audience on Facebook, Instagram, and Twitter, fostering a sense of community and connection across both the physical park and its digital spaces.
Email announcement
An email announcement for the new director of horticulture, highlighting their background and qualifications in relation to landscape design while also mentioning their interdisciplinary film and television studies as this kind of multifaceted background could be relatable to NYC-based donors, the target audience. The email announcement (and social media posts) also showcases photography from an Instagram user to build engagement and connect with existing followers and inspire others to follow the High Line on social media.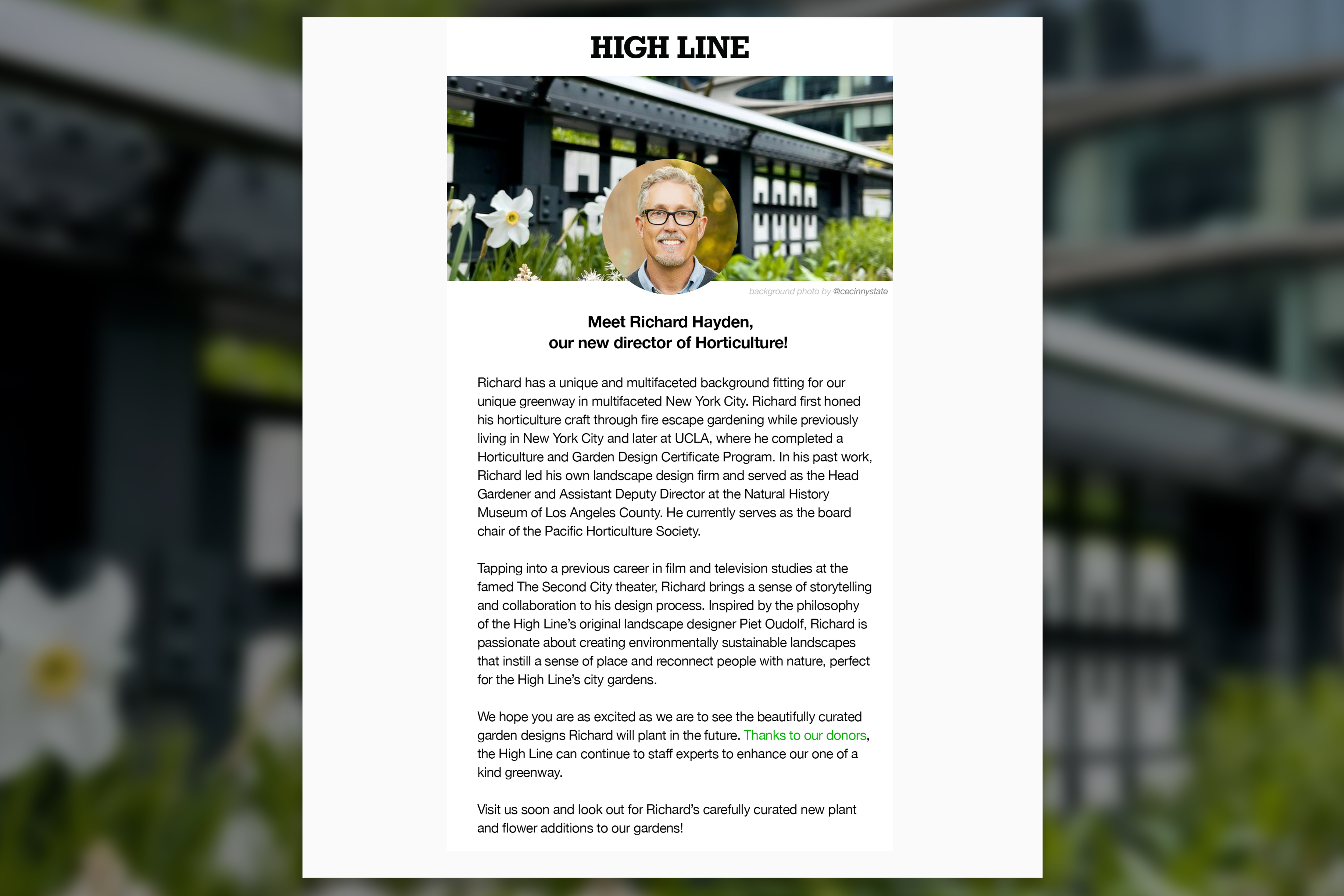 Facebook, Instagram, & Twitter posts
Condensed copy based on the email announcement for Facebook, Instagram, and Twitter. These social posts economize copy based on platform to more succinctly highlight the new director of horticulture's landscape design philosophy. The Facebook post is also suitable for LinkedIn as both platforms permit a longer character count and generally garner longer attention spans from target audiences. Copy for Instagram and Twitter are progressively shorter based on character count and attention span limitations on these platforms.
Concept for future Instagram Reel
An animated GIF concept of the opening of a reel for Instagram. The reel starts from an aerial view of the High Line gardens and zooms in to show a solitary plant or flower while the new director of horticulture narrates, introducing themselves and describing their landscape design philosophy. The video continues with a shot of them working on a laptop, showing a design or rendering of future garden plans.
Video content for Instagram & TikTok
A lighthearted video for Instagram or TikTok, shot in an approachable and amateur style, featuring fun things to do at the High Line, even on a blistering cold winter day. The video aims to emphasize one New Yorker's (me!) love for the High Line's public outdoor space with access to the charms and perks of New York City.
GET IN TOUCH
Copyright © Vanessa Grass.
All rights reserved.